..on the jukebox". "The original group consisted of Chy Soto, Hector DeValle, Albert Bowcome, Bravo and myself. The group's name, came about when Chy and I went to see the movie "The Robe", "Victor Mature" was made a Roman Tribune,  we thought that would make a good name for a group............

                          The Tribunes 1962 left to right:

Anthony Vasquez, Junior Vasquez, Sonny Lopez, John Costello, Tony Acaron

....By 1960 the new Tribunes were formed. The group now had four new members:  Anthony Vasquez, Junior Vasquez,Sonny Lopez, John Costello, and I, Tony Acaron.

In 1962 we recorded "Code Of Love" on Paul Winley's "Derrick" label.As you all know Paul Winley produced the classic recordings

by the Paragons and the Jesters.  We made

  It is now the year 2007, Tony has handpicked some of the best singers in New York. The new  "Tribunes are performing at The Richard Nader's Doo-wop shows on WCBS-FM's DooWop Shop, UGHA. Lead East, the Harwin Theater in NJ, the Molloy College Acappella Shows, Vinny's Doowop Italian Restaurant in Brookyn,the Living Arts Theater in Phila, the New England DooWop Society. The Tribunes can be reached at 516-935-9481 for concerts, weddings....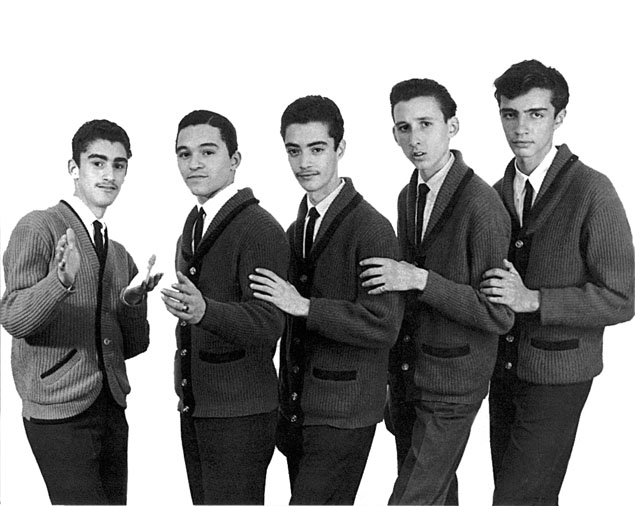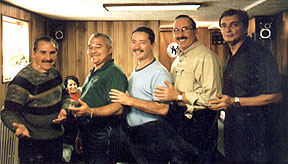 The Tribunes reunion 2003:

Same order as above photo

in person appearances at The famous "Apollo" theater in Harlem and The Jazz Corner Of The World "BIRDLAND" in NYC.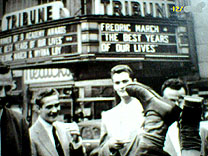 Tribune Theater  circa 1957

Broadway & 46th St.

..Corporate functions, and dances all over the USA. Things are looking up for the Tribunes since the days in the old Bronx. In 2003 Tony searched telephone books, and the internet to see if he could locate the original group and sure enough the orginal group reunited in Tony's home in Staten Island and reminisced. It was a thrill when they went into the Heartbeats "Darling How Long"..they still sound good.

"I Love These Guys" :Tony

             A BRONX TALE...

It's 1957, Tony Acaron and his buddies are singing on the corner of 138th St. & Cypress Ave. in the Bronx. They were listening to the Alan Freed Show on WINS Radio in NYC. "We used to sing any tune by Frankie Lymon & The Teenagers" says Tony: "We had terrific harmony. We could sing anything we heard on the radio or